Teil 2 derselben Technik.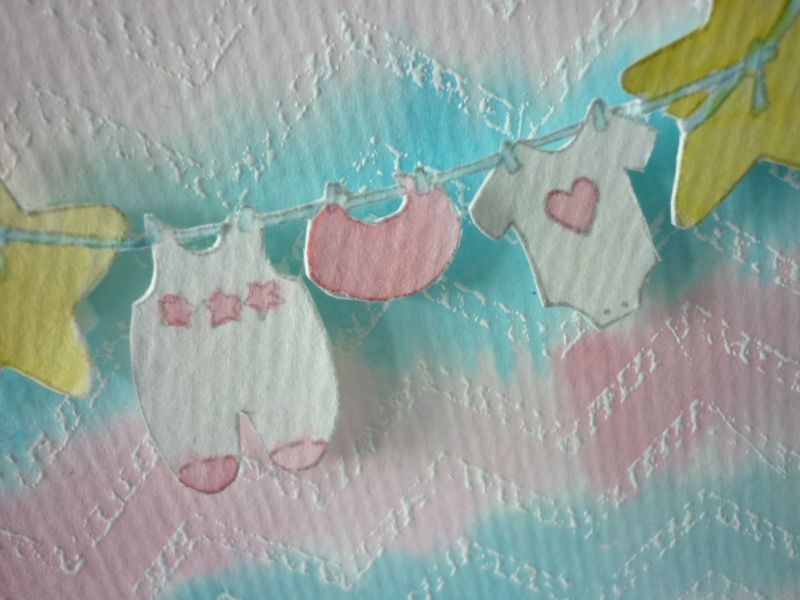 Wieder mit Embossingfolder gestempelt. Hier sieht man, dass breitere Linien nicht so gut stempeln wie feinere. Mir gefällt hier aber der grungige look sehr gut. Dämpft etwas die Bonbonfarben der Karte. Wie die Karte zu diesen Farben kam, ist eine lustige Episode: Eine Stempelfreundin war schwanger mit dem zweiten Kind. Der Arzt sagte einen Sohn vorher. Die Schwangerschaft war aber anders als beim Ersten, einem Jungen. Sie ließ uns raten. Mein Kopf sagte Junge (Ärzte haben immer recht), mein Bauch Mädchen. Es ist eine süße kleine Tochter geworden. Ich habe darüber nicht bewusst nachgedacht als ich die Karte gestempelt habe, aber von der vorhergehenden Karte lagen noch die Stempelkissen da. Nun ist blau-türkis nicht unbedingt mädchenhaft, daher hab ich mit Rosatönen kompensiert. Und anders als beim ersten Mal nicht im Regenbogen, sondern abwechselnd und nicht diagonale, sondern horizontale Streifen. Als die Karte fertig war, war ich verblüfft, wieviel Hintergrundgeschichte darin zu erkennen ist.



Part 2 of the same technique.

Another try with embossing folders. Here you can see that you get a more grunge look if your folder has thicker lines. But I like it, it`s kind of balancing the cute colors out. And the colors are a story in itself: a stamping friend, pregnant, let us pick what the gender of her baby will be. The doctor told her a boy, but this pregnancy was different than the first (a boy). My head said boy too, because doctors are right, but my gut said girl. She got a cute little daughter a few days ago. I didn`t think about the colors, but I`m quite impressed that the story is visible.
ColourQ:
Color Challenge