A lot of birthdays ahead, though I`ve been deep into making Birthday cards. This one was inspired by those cute little Pirate Card I made recently. I loved the window so much I had to use it once more. This time a litte girl brings a bunch of flowers, looking through a heart shaped window.




You could see the closure at the picture, I used little magnets for it: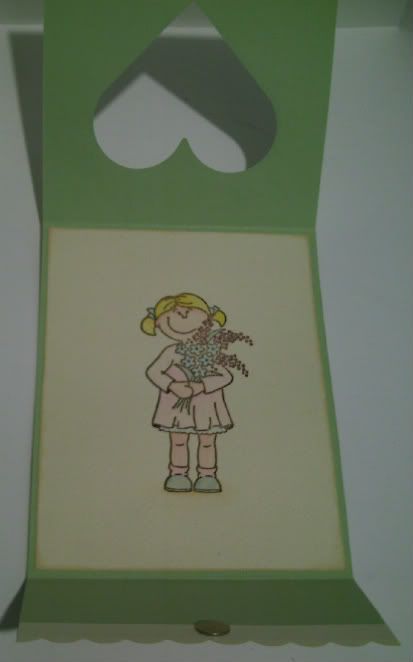 Because there isn`t much space for congratulation words beside the girl, I added a space at the backside. This card was also hugely inspired by Stempelmagie, I´m a big fan of her envelope Cards.




Thanks for looking!

Es stehen eine Menge Geburtstage vor der Tür und so bin ich tief ins Geburtstagskarten werkeln versunken. Diese Karte ist von meiner süßen Piratenkarte inspiriert. Die Fensteridee hat mir so gut gefallen, dass ich sie noch einmal verwenden musste, und mit den Spellbinders ist das ganz leicht. Diesmal guckt eine Gratulantin duch das herzförmige Fenster. Die Karte wird mit einem Magneten verschlossen, gnadenlos abgekupfert von Tanja, deren Klappkarten ich über alles liebe! Und da neben der Gratulantin wenig Platz für Wünsche ist, hab ich ihn einfach hinten auf der Karte genutzt!