Zur Zeit nehme ich an einem Online Kurs teil (Watercolor for Card Makers). Tag 1 begann mit einer spektakulären Technik, die ich leider wegen (noch) nicht vorhandener Stencils noch nicht ausprobieren konnte. Da ich in letzter Zeit stempeltechnisch etwas eingerostet bin, habe ich mich zuerst mit Technik 3 beschäftigt - Emboss-Resist. Nicht neu für mich, daher leichter einzusteigen, aber durch die etwas andere als bekannte Umsetzung (Farbverlauf) inspirierend genug, um anzufangen.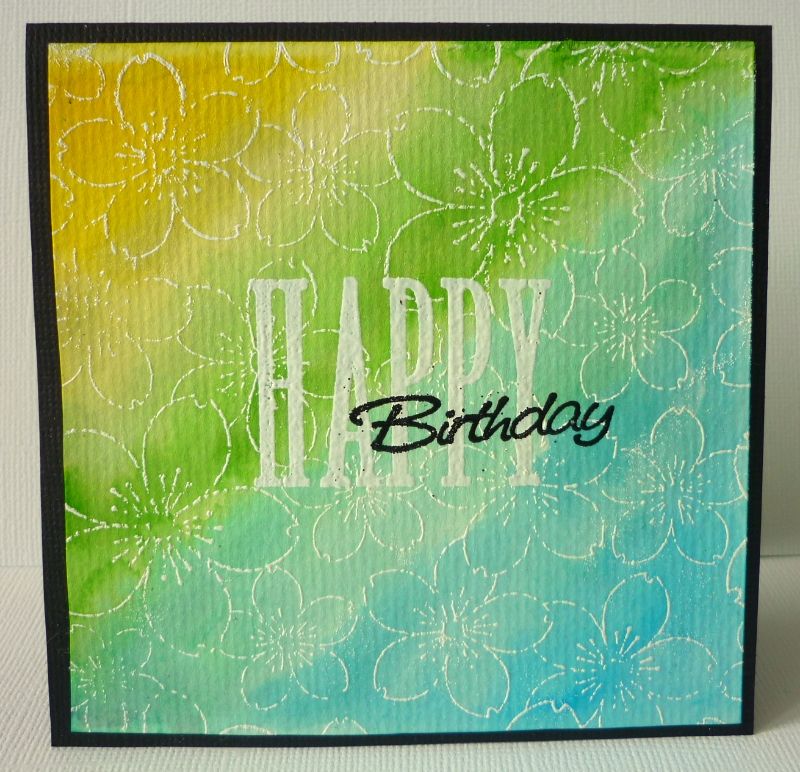 Von meinem ersten, misslungenen Stencil-Ersatz-Versuch lagen noch die Embossingfolder herum, als ich auf der Suche nach einem blumigen Hintergrundstempel war. So kam ich auf den Gedanken, mit dem Folder zu stempeln. Klappt ganz hervorragend.




Ich hatte dann einen richtigen Lauf, so sind noch weitere 2 Karten und ein Hintergrund entstanden, den ich in nächster Zeit verarbeiten werde.

I`m participating on the Watercolor for Card Makers Class at the moment. Day 1 had a spectacular technique (1) but because I don`t own a stencil (yet) I couldn`t try. For a short while I considered using embossing folders, therefore the where still on my desk today when I had another go. Today I tried technique 3. Because this isn`t new for me it was a godd start but challenging enough with the rainbow inspiration to give it a try. I searched for a flower background and saw the embossing folder. And I tell you what: you can stamp with folders! Apply your watermark ink to your Folder like you would do with a stamp, smaler lines work better, I found out. Than you continue like normal. I`m happy with this card and had a blast with this technique, though I made 2 more cards and a background. Stay tuned for more in the next days!